Boriken Wars is proud to present: Weeks of hard work and holding it a secret from our Community, hoping it would bring a reaction, thinking we would never have Survival and out of the BLOOM we have finished our Survival Server!! We are proud to present our Unique Blend towards Survival!! Since Boriken War's Origin as a Faction PVP Based Questing Server all in one, we have received numerous critiques about it not being Survival, that since it its not Survival I don't want to play!! This critiques at the time could not be satisfied because we only had one Shared Hosted Server! Meanwhile today, since our origins, we have received the attention of needing a Survival Server. Now we can satisfy that demand, given we have a Dedicated Powerful Machine where we can host multiple servers without any problems at all!! Our possibilities are endless! It is just a matter of player demand and we try our best to satisfy it! We are proud to present it and we hope our players will enjoy our new Server!! If anyone finds Bugs, please report to our Discord #support or our Forums on this website!! Explore by joining today!! It is now open for Beta Testing to our Public!!
In DEV Ideas that need Voting: Adding a plugin for Diseases, basically players get annoying diseases which give negative effects to the player, to enhance the realness of our Survival Server, since it might annoy some players we will vote to pass the motion or not! The Plugin has being fully configured and coded, it has not being implemented until it has been decided on!
Survival Server Features: The Following are some features but ARE NOT limited to:
Towny Claiming System: Form Towns and Claim land to protect from Grief and enjoy the small Roleplay of Owning a Town and Claiming your "Little Town" for you and your buddies!
LWC Protection: To protect all types of doors, fences, furnaces, chests and more!! Place the door or chest and it will automatically lock, otherwise use /lock or /lwc for help!! Following Limits are in place according to group!!
LWC Default: 6 chests, 25 everything else
LWC Apprentice: 12 chests, 50 everything else
LWC Merchant: 24 chests, 100 everything else
LWC Artisan: 48 chests, 200 everything else
LWC Businessman: 96 chests, 400 everything else
LWC Lord: 192 chests, 800 everything else
LWC Titan: 384 chests, 800 everything else
No PVP Allowed: For PVP go to our Factions Server (/server Factions)
Many Features included in Factions like: crates, quests, rewards, ranks, perks, shops, shop guis, menus, custom enchants, etc. (Explore by joining)
Custom Terrain Generation: amazing custom terrain
Furniture: that is right! Players can now have their own furniture that can be achieved through the daily reward system. This includes: chairs, tables, tents, camera, sofas, hammocks, TVs, candles, lamps, flags, fences… and so much more! Players can also sit on the chairs!
Quests (273x different quests): when players need something to do or when they want to earn cash, items or experience, they can start a quest. Upon completing it, they will receive a reward!
Crates (4x tiers, 156x different rewards): players can open up these crates and get a reward. Some rewards are rarer than others. These are the tiers: Old, Antique, Ancient and Mythical. Mythical is the best crate as it contains the best loot but is rare to get.
Safe Trading: players can safely trade with other players with the GUI trading system. This reduces the risk of them getting scammed.
Skylands Dimension: a dimension that is full of floating islands. This is where new mobs spawn that drop special items.
Gravestones: whenever anyone dies, a gravestone will be automatically placed at the location of death. A chest also spawns underground to store the items of the dead person.
Realistic Tree Falling: whenever a player cuts down a tree, they will hear sounds and see the tree fall.
Everything is GUI based: there is a GUI for the different warps… anything really. It is better to click something rather than typing something in chat! (Includes Towny Commands)
GUI Shop: players can purchase items with coins or sell items for coins.
Custom Menu: players can use the /panel or /menu to navigate around the server with ease.
Custom Plugin Help: players can execute /helper to receive plugin command help or features.
Custom Help: players can execute /help to receive information about our server.
And so much more…
See the server for more features!!
How to Join the Server from the Lobby: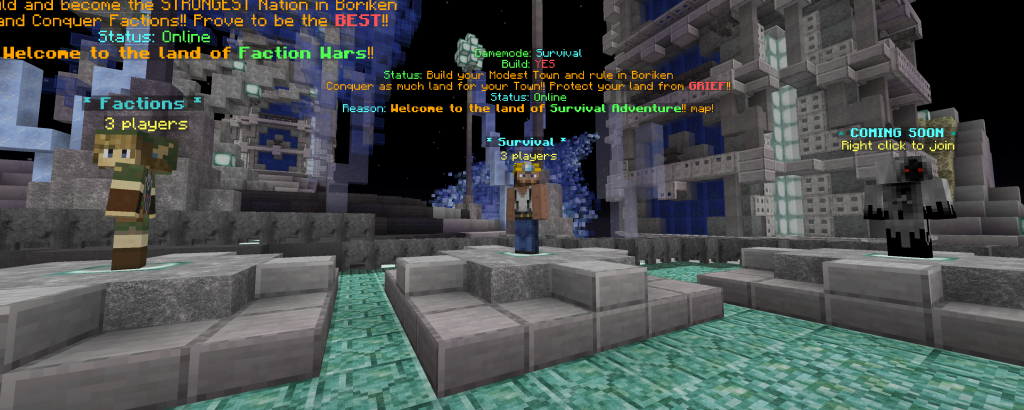 How to Join the Server from any Server in the Network: /server Survival
EXTRA INFO: The Dungeon Update
After Finishing The Dungeons for Questing Server, you have finished Questing Part I!
I have released an event for players!!
First 3 to reach the rank "King of Boriken" will receive the following prices!!
1) $250,000 in game and 2,500 XP
2) $125,000 in game and 1,250 XP
3) $62,500 in game and 625 XP
Participate now to get these global rewards!! Rewards apply to the whole network, use your money in any server!!
Event Finishes on: December 25, 2019
Stay Tuned for More Updates related to Questing, Dungeons, Mobs and Gear and all of our other Servers in our Network!!
Christmas Rewards: (From: December 20-December 31)!!
– Join the Factions Server to Claim a Rewards Kit with Cool Rewards!! – Join /server Factions – Do /kit Rewards
Kit Includes: – $2500 In game Cash – 150 XP – 16 Diamonds – 1 Rare Crate Key All this for Christmas Special!!
Boriken Wars Discord:
If you are new to Boriken Wars, or are interested in being part of it, we believe it is vital that you join our dedicated Discord (Click Here to join). The Boriken Wars discord is where all important information regarding our servers is announced / stored (such as Factions, Questing, Gun Range Warnings and updates). This discord is also the main line of communication between us and the participating players / leaders.

Thanks for Reading The Survival Update Note!! Hope you will enjoy our new features!!
Cordially,